'The Slide Is Real': Many Online Learners Have The Most To Lose
ORLANDO — For most of this academic year, Gabrielle began her school day with a click. Then she waited to see if her classroom would appear.
"It's very confusing. … Sometimes the conference doesn't pop up," said Gabrielle, a Black seventh grader at an Orlando middle school.
Even when she could log on, she said she wasn't always able to get answers to her questions.
"I have to turn on my mic or type in the chat, and [teachers are] usually screen-sharing, and they're not on the page," Gabrielle said. Florida Public Media is using only the first names of Gabrielle and her mother to protect the family's privacy.
Nearly a year after schools around the country closed abruptly in an unprecedented effort to slow the spread of the coronavirus, millions of kids are still learning remotely. National surveys have shown that many of these virtual learners are students like Gabrielle who face some of the greatest challenges to success online: low-income students and students of color.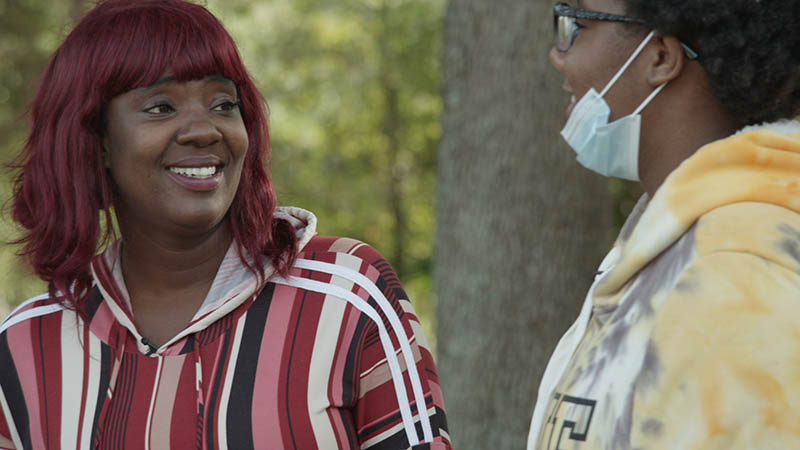 A nationally representative survey released late last year by Education Next, a peer-reviewed education research journal affiliated with Harvard University, found that white students were much more likely than Black or Latino students to be learning in person. The survey found 76% of white students who had the option of face-to-face learning chose to return to school. For Black students, that number was only 56%.
Another national survey, by The Associated Press and the nonprofit education news outlet Chalkbeat, found that predominantly white school districts were more than three times more likely to offer in-person learning than districts that were more racially diverse.
Those racial disparities between online and in-person learning extend to counties in Florida, where state policymakers mandated that all districts open school buildings for any students who choose to take face-to-face classes.
In Orange County — which is the state's fourth-largest district and encompasses Orlando — more than 70% of students are Black, Latino or identify as being of two or more races, according to the state Department of Education. More than half of students are economically disadvantaged. Just about half of the district's students are enrolled in digital options, according to the district.
Compare that with the neighboring Lake County district, which is whiter and more affluent. Less than a quarter of those students are attending virtual school, according to the district.
"I'm terrified of losing one of my kids due to the pandemic, due to the coronavirus," said Bathsheba, Gabrielle's mother.
Black and Latino communities have been hit harder by COVID-19. Systemic racism and historical inequities in access to quality health care have contributed to higher hospitalization and death rates for Black and Latino people. There are parents who fear falling too ill to work or being forced to battle COVID-19 without health insurance. In multi-generational households, parents worry about their children bringing the virus home to older relatives.
"So many people … have died from this virus, and I didn't want that for me or my children," said Bathsheba. Her two school-aged children had been learning from home since last March.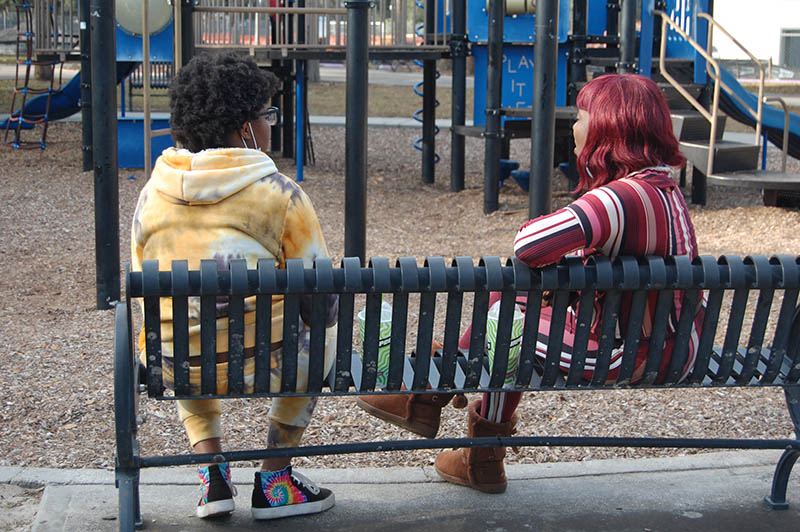 Gabrielle said some teachers held classes on Microsoft Teams, while others used a similar app called BigBlueButton. She found navigating between the two confusing.
Her home life added to the challenges of virtual learning. The family was facing the threat of eviction, and Gabrielle and her older sister were splitting their time between their mother's and grandmother's homes. But Gabrielle's attendance and grades suffered so much that her mother, grandmother and teacher all agreed it was time for her to go back to campus, despite the family's concerns about getting sick.
Gabrielle said she was nervous.
"You're going to have to catch up," Bathsheba told her daughter. "You're going to have to work harder now to catch up because you've fallen so far behind."
"Yeah, I know," Gabrielle responded.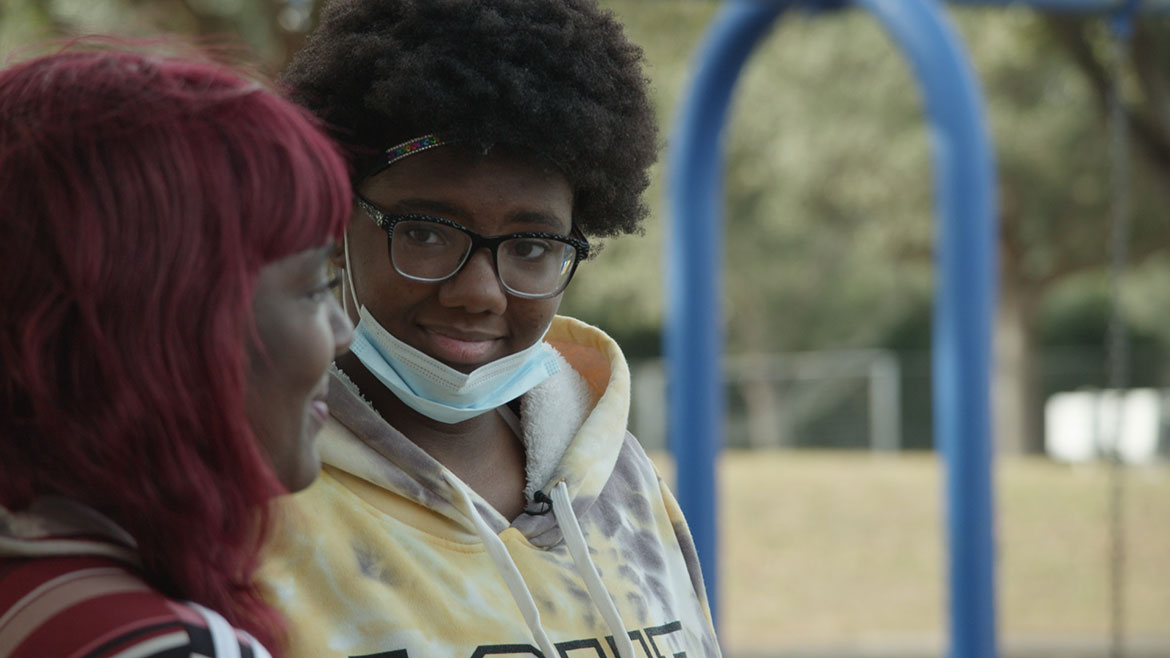 Like Gabrielle, other virtual learners regressed academically following the shift online. Although the extent of the losses is not yet understood, racial disparities in early data are especially alarming.
Late last year, a national analysis of pandemic-era assessment data by the consulting firm McKinsey & Company found that schools where more than half of students are Black or Latino experienced more severe learning losses than majority white schools. While, on average, white elementary school students started the school year about one to three months behind in math, their peers of color lost three to five months, according to the study. Student participation in online math classwork was lower for low-income students than their more affluent peers, the study also found.
"While all students are suffering, those who came into the pandemic with the fewest academic opportunities are on track to exit with the greatest learning loss," wrote the authors of the McKinsey report.
A term has emerged for this phenomenon: "the COVID slide." It's a riff on "summer slide," a shorthand educators often use to refer to how much material students forget over the summer and have to relearn when schools reopen in the fall. In that context, the pandemic has been like a long summer.
"The slide is real for our Black children, for our Hispanic children," as well as students who are still learning English and those with disabilities, said Debra Pace, superintendent in Osceola County, another Central Florida school district.
Three quarters of students in Osceola are Black, Latino, or of two or more races, state data show. The richly diverse county includes a large Puerto Rican population.
More than half of students in the district are considered economically disadvantaged, according to state data. The pandemic added to economic stressors for families in the area. Staggering theme park layoffs pushed the unemployment rate in Osceola County to near 9% — the state's highest, according to the U.S. Department of Labor and Florida Department of Economic Opportunity.
More than a third of Osceola students are learning virtually, according to the district.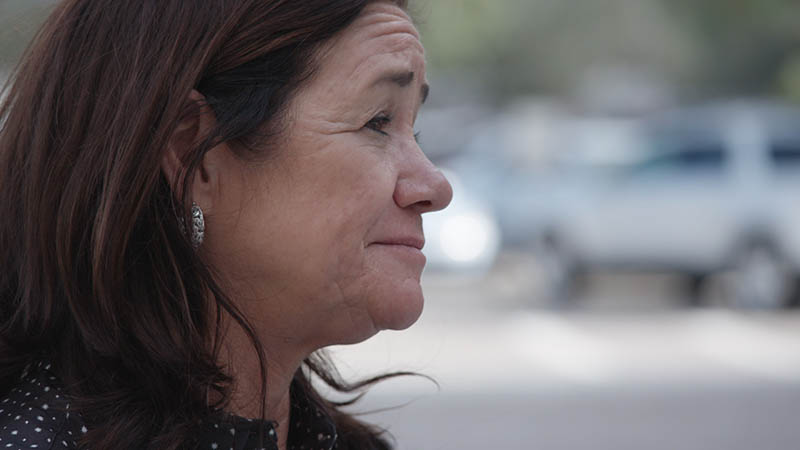 When school buildings in Florida first closed last March, Pace's district issued thousands of laptops and Wi-Fi hotspots to try to close the gap between families who have those resources at home and those who don't. Since then, the district has offered after-school programs where virtual learners can meet in small groups. Administrators are also planning an outreach program for digital learners who are often absent.
Still, when kids are at home, they're not always able to focus on schoolwork.
"We'll have a child say, 'Well, I have to sign off now, Miss, because it's time for us to go to the grocery store,'" she said. "Or, 'I have to sign off now, Miss, because I have to help my younger sibling with his math work.'"
Pace echoed the fears of many experts that the pandemic is not only laying bare pre-existing learning disparities, but also exacerbating them — potentially setting up some of the most vulnerable children for even more challenges in the future.
"I don't think we know yet the long-term impact of this on our children," Pace said, "but we also know that we can't afford to lose a generation."
WUCF producer Steve Mort contributed reporting for this story.
Funding for "Class of COVID-19" was provided in part by the Hammer Family Charitable Foundation and the Education Writers Association.