For Special Education Students, A Potential Side Effect Of COVID-19 School Closures: Struggling To Communicate
TALLAHASSEE — On a cool evening in December, Denise Wilson scrolled through YouTube to find children's videos for her 18-year-old son, Brady. She handed him his iPad and watched over him as he rocked his head to a tune by the Wiggles.
Their dog, Keefer, roamed around the patio looking for attention. But Brady was consumed with the song, forcing Keefer to lay her front paws on Denise.
"Brady, is Keefer the prettiest one in the family?" Denise asked.
"Yeah," Brady said, nodding, briefly taking his eyes away from his device.
"Yeah," Denise agreed, as they smiled at each other.
Last spring, the coronavirus pandemic forced schools across the state to shut down, and teachers to move their lessons online, which Denise said was a struggle from the start for Brady. He is among the nearly 15% of public school students in Florida who have a disability and receive special education services.
Brady has a rare genetic condition called Potocki-Shaffer syndrome. People with this syndrome are often on the autism spectrum and have developmental delays. Denise said Brady is developmentally age 5.
"Brady is a creature of habit, and I think a lot of our kids with special needs — they like routines, and they like habits. So, in his mind, school happened at school, in the building. It made it really challenging to get him into a school mode when we were here at home," Denise said.
During the spring, Brady received his occupational therapy remotely, and his teacher scheduled one-on-one virtual sessions with him.
"He would get mad at me and say, 'no school,' so I would put the laptop right on his lap. His teacher would get his attention, and then she would kind of slowly cajole him into doing the schoolwork," Denise said.
Despite Brady's teacher's best efforts, Denise said her son began struggling to communicate.
"The full sentences weren't as complex and weren't as much of a sentence," she said. "They were more like two-word sentences."
When schools reopened in the fall for face-to-face classes, the Wilson family decided to send Brady back in person. "He's very, very healthy. So, he doesn't have any issues that would cause him to get more ill if he were to contract COVID," Denise said.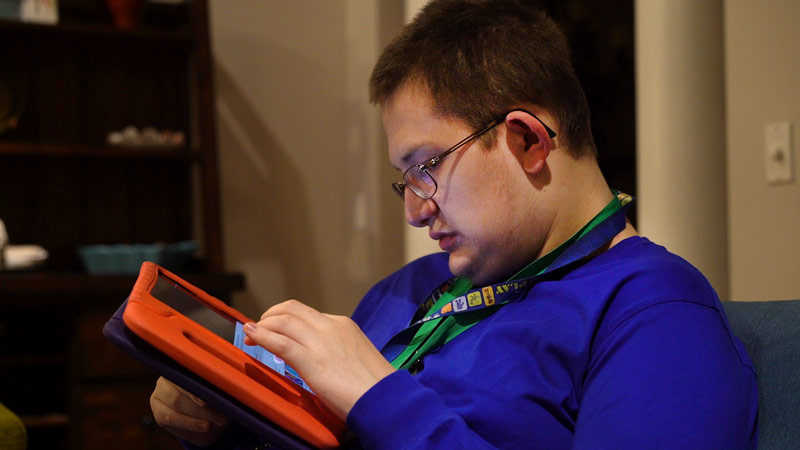 Brady's teacher Mallory McGinnis said when he first came back to school, he did not want to say much, and they had to drag words out of him. But after a few months back, she said that's turned around.
"Today in class, he was talking the entire class period. Doing part of the readings, answering questions, interacting, making jokes," McGinnis said during an interview in early December.
Other students in McGinnis' special education classes have had similar experiences. She said the lack of face-to-face interactions during the spring caused students to have trouble communicating past their wants and needs.
"When you're only interacting with your parents or siblings, that's totally different than how you interact with your peers here at high school," McGinnis said. "When they didn't have that interaction, I think that definitely, socially, puts them a little further back, and we're having to recoup some of those skills this year."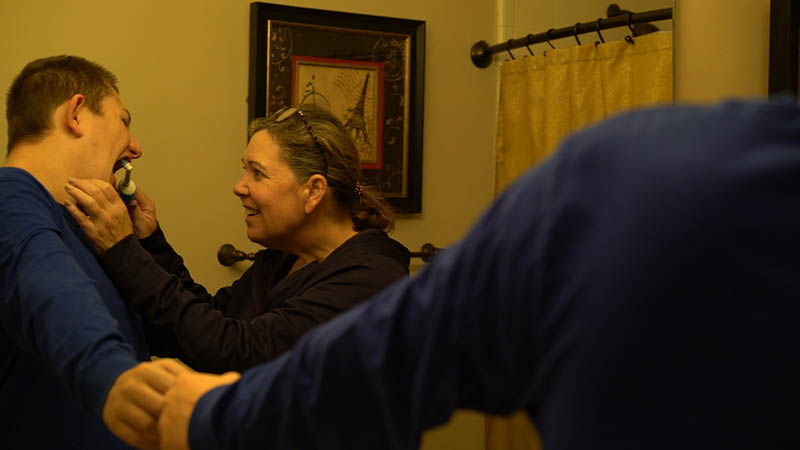 Laurie Cutting, a researcher at Vanderbilt University whose work focuses on people with intellectual and developmental disabilities, said it's important for children with disabilities to learn from their interactions with each other — not just with their parents.
"Parents will do a lot of filling in or helping them in terms of their language skills," Cutting said.
For example, Cutting explained, if a child grabbed a toy out of a parent's hand, the parent might say: "You know what? That wasn't the nicest way to get that toy. How do you think you might do that better? Should we try that again?"
But Cutting said if that same situation took place between two children, it wouldn't go as smoothly.
Her colleague, Sissy Peters, said these real-life situations are hard to simulate at home.
"Core skills like learning how to share toys, or when it's appropriate to interject in a conversation, things that are social norms — a parent might be more forgiving in that situation, whereas a peer might say, 'Why'd you interrupt me?'" Peters said.
"The lack of opportunities for those different exchanges, and to learn what might be more socially appropriate — that could be lost during this time period," she said.
It's not just socializing that students with disabilities have missed out on during the pandemic.
Federal law requires that students with disabilities get the individualized services they need, like speech or occupational therapy. But last spring, campuses were closed, and home visits were risky for families and school staff, so many of those vital services didn't happen.
Ann Siegel, legal director of the advocacy group Disability Rights Florida, said her organization is pushing schools to provide double or triple the amount of services to students who lost out on them earlier during the pandemic.
"We have a lot of kids who've lost 30, 60, 90, 120 minutes a week of these services. And now, they're getting them, but they need extra to make up for the time they've lost," Siegel said.
Siegel said parents have been calling her organization with complaints that their children have been regressing in the absence of in-person classes.
"It is significantly emotional for these families to see all of these milestones that have been reached kind of slip away," Siegel said. "And I know some of our families are very concerned that their children will never regain the skills that they've lost."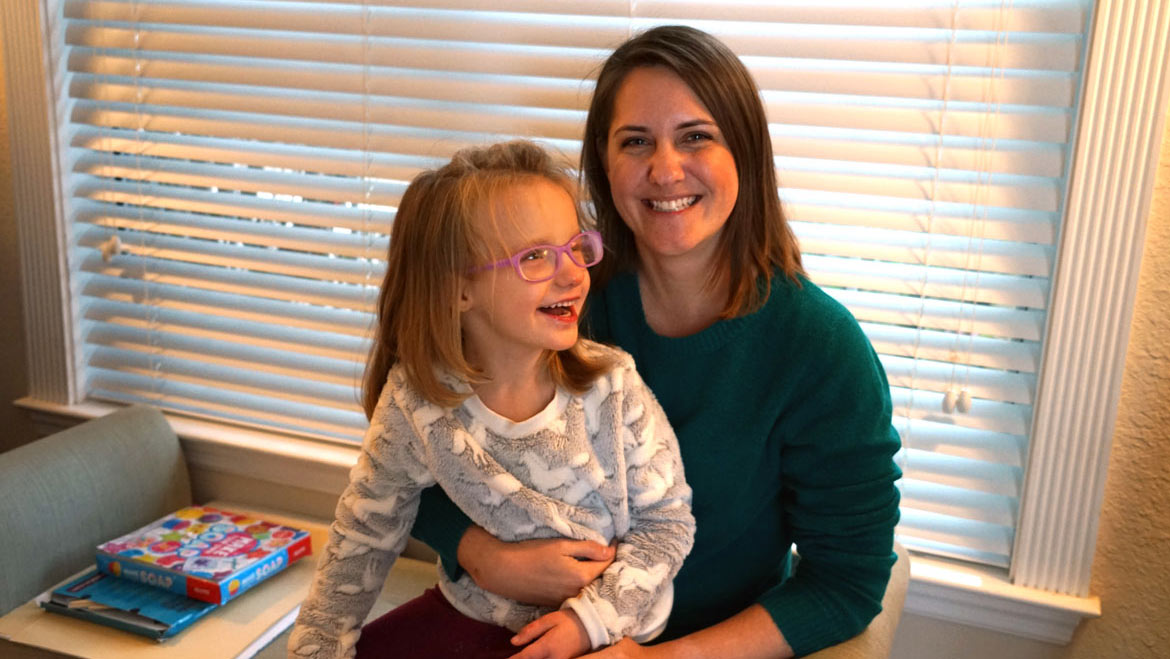 Isabelle Dietz's education during the pandemic has been a relative success story.
Isabelle, 5, a kindergartner at DeSoto Trail Elementary in Tallahassee, has GAND, a rare disorder that affects brain development. She communicates through hand gestures and visual cards, and she's learning American Sign Language.
Just because she can't speak doesn't mean she's not a social butterfly.
"For instance, at daycare, I would have to get there like 20 minutes early and make sure that I had 20 minutes allotted at the end of the day, because she would have to go around to every classroom and say goodbye or hello to all of the kids and all the teachers there," her mom, April Dietz, said.
April said her daughter did well learning from home last spring. A considerable part of that was the fact that Isabelle's speech, occupational and physical therapists came to her house to work with her.
Isabelle didn't regress, because she was able to get what she needed — at home.
Funding for "Class of COVID-19" was provided in part by the Hammer Family Charitable Foundation and the Education Writers Association.