MIAMI — In a covered entryway outside Morningside K-8 Academy, four little kids ran in circles around each other, squealing and giggling. "Go, go, go!" a little boy screamed to his siblings.
They were playing "ring around the rosie," they said. The dark nursery rhyme was inspired by the Great Plague of the 1600s.
At this point, it was June 2020, a few months into the plague of our generation. Morningside, like all public schools in Florida, had been closed since mid-March.
"I have them doing their homework online. Sometimes I have it difficult, but I contact those teachers. They helping me," said Sunshine, the kids' mother, who speaks Haitian Creole and some English. Florida Public Media is not using her last name to protect her privacy.
Three of Sunshine's children attend Morningside: an incoming kindergartener, first grader and fourth grader. Playing together outside their school that hot afternoon, their faces mostly covered by grown-up sized blue surgical masks, they looked impossibly tiny. The baby, in her mother's arms, wore a white dress, pink ballet slippers and a pacifier.
Sunshine said her husband had just been called back to work after two months out. With her four children at home, the family's finances were tight.
"We spend more money," she said, "buy the food, some stuff like that."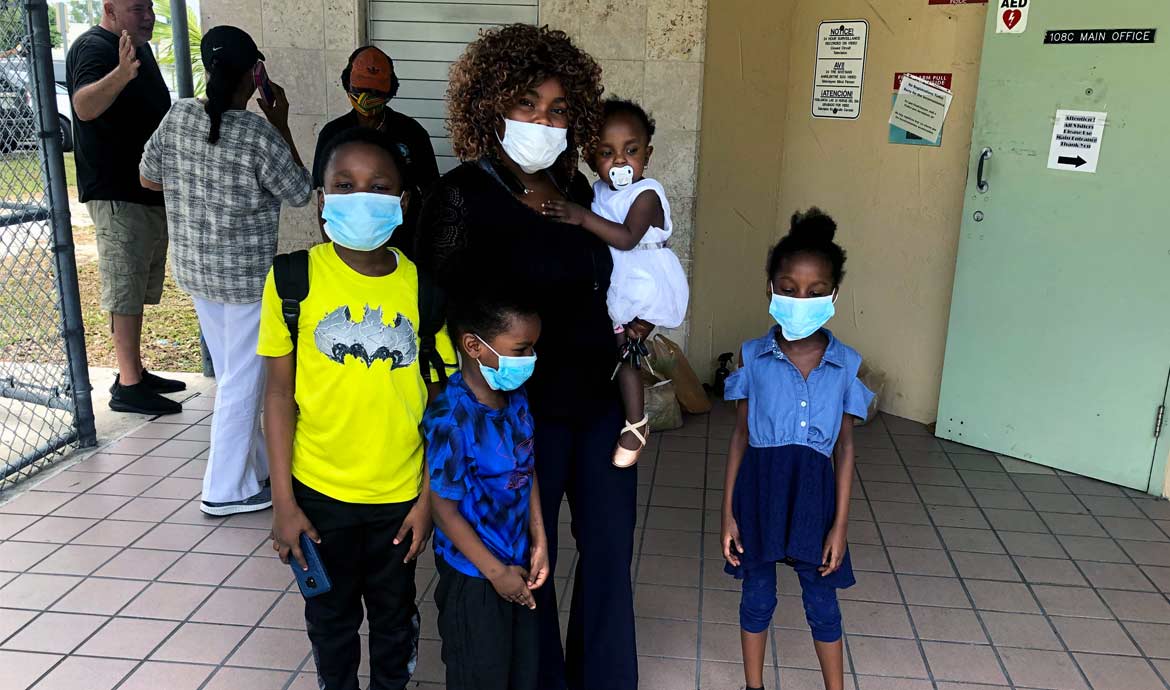 Sunshine came to Morningside to pick up some groceries and a Publix gift card. Hers is one of more than 100 families at the school that the parent-teacher-student association has been able to help over the last year. Nearly 90% of students at Morningside qualify for free or discounted meals, an indicator that the school serves mostly children living in poverty.
"Our families were already really suffering before this," said Chase Simmering, then-president of the school's PTSA. The pandemic "has just been a completely insurmountable addition of stress."
COVID-19 has starkly exposed the socioeconomic and racial fault lines at Morningside, a dual-language magnet school in a gentrifying neighborhood. While the student body is nearly 90% poor and 60% Black, Simmering and the other leaders of the PTSA are middle- and upper-income, and none of them are Black.
The PTSA has worked over the last several years to bring in resources that benefit all kids at the school — like free buses for field trips to the Frost Museum of Science and the Kennedy Space Center, grant funding to install an on-campus garden featuring endangered native Florida plants, and a partnership with the O, Miami poetry festival.
But it's easier to do what's best for the community when it's the same as what's best for one's own individual child — and for some parents, the pandemic has pitted those priorities against each other.
And while the PTSA has been trying to help some of the school's poorest families survive the pandemic with food donations, the organization is facing its own existential crisis. With the added pressures of COVID-19, the women leading the group are stretched thin and burned out.
"Our PTSA is dangerously close to disappearing," Simmering said last summer. "We've been trying all year to get more people involved, and there's nobody stepping up to replace us.
"So I feel like if we left and walked away, the PTSA is going to fall apart. And that's a lot of pressure."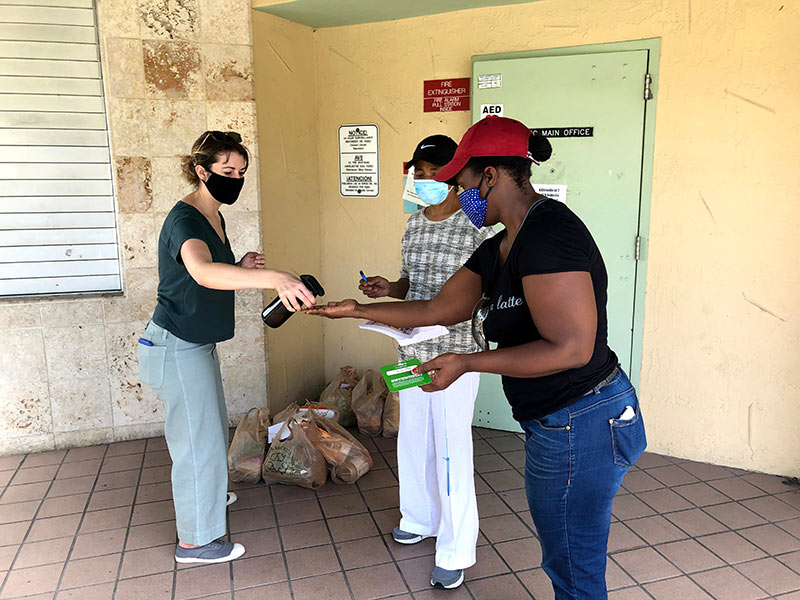 PTSA starts fundraiser to feed families — and brings in $20K
During that grocery pick-up event back in June 2020, Edith Blanchard wore a mask that read: "I'm smiling underneath."
"I always smile. That's my duty," she said, "because I deal with children every day."
Blanchard is Morningside's community involvement specialist. "My job is a bridge between the school and the children's homes," she said.
Blanchard is from Haiti, and she speaks the language, so she is able to communicate with the school's large population of Haitian families. She often visits students in their homes, and she has seen first hand the challenges some of them are facing: Poverty. Hunger.
When the announcement came that school buildings would close in March — at first, for just a couple weeks, and later, indefinitely — Blanchard thought of the parents.
"Every time I think about it, I think about myself as a mother," Blanchard said, "and how difficult it can be for a kid to wake up [and say], 'Mommy, I'm hungry,' and then yet … there's nothing on the table. It'll break your heart."
Blanchard has worked at Morningside for two decades, and she has noticed the neighborhood change over that time. The median asking price of homes and condominiums in the zip code where Morningside is located, 33138, has nearly tripled in the last 10 years, from just over $200,000 to almost $600,000.
Morningside is a neighborhood school, and it's also a school of choice. Some kids attend because they live nearby, and others come from all over the county for the beloved dual-language magnet program. Students choose Spanish, French or Haitian Creole.
Morningside is the only Haitian Creole magnet in Miami-Dade County Public Schools and one of just seven schools in the district that offers a course in the language.
The school's Black majority has been shrinking. It went from about 66% five years ago to 60% now, and state data show the Latino population is growing rapidly.
Blanchard said the demographic changes at Morningside and the surrounding neighborhood have not hurt the school's culture, and she's not alone in that opinion. In interviews with nearly two dozen people — parents, students, teachers, school employees, administrators — they all agreed that the school was a warm place where the children are loving and the teachers are talented and dedicated.

"Different names, different last names," Blanchard said, "but it's always our children."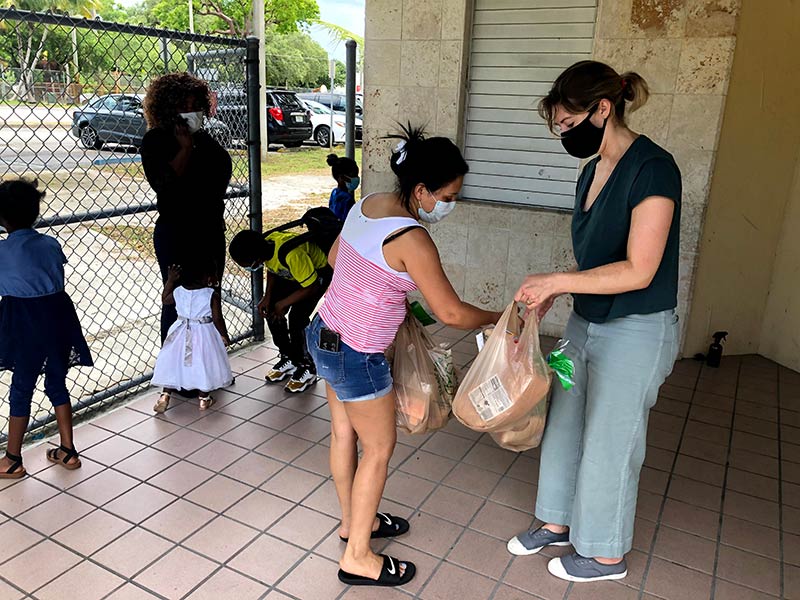 Despite the growing wealth in the community, the school has remained mostly poor. The Morningside PTSA had organized food drives around holidays in the past, and the group's president, Chase Simmering, knew many parents were struggling even before the pandemic wiped out wages and child care.
"We had a family whose house burned down" just after COVID-19 hit, Simmering said. "And just last week, we had a student whose mother was killed in a car accident. So I think they're coming today for help."
At the onset of the pandemic, Simmering and her PTSA colleagues quickly decided to redirect money earmarked for canceled field trips and dances to buy food — not only for students' families but also for some of the part-time employees at the school whose spouses lost their jobs.
Just by sharing the fundraiser on social media, the PTSA quickly raised nearly $20,000.
Simmering stood surrounded by Publix bags full of groceries for Morningside families. Peeking out were boxes of raisin bran cereal and loaves of sliced bread.
"We try to, in each food delivery, cover household staples," she said, like rice and beans, pasta with sauce, peanut butter and jelly, shelf-stable milk and apples.
"We always try to include some kind of fun snack for the kids. Like, I think this time we got animal crackers," she said. Last spring, the PTSA offered the makings for Easter baskets.
The PTSA gave each family about $25 worth of these basic items, plus a $150 gift card for whatever else they needed. The group's officers also made trips to Homestead to pick up produce and dairy and deliver it to families' homes.
The group has relied on teachers, social workers and other staff at the school to identify the families in the most urgent — sometimes emergent — need.
One family asked for a district-provided laptop after they sold theirs to pay for a week of food, Simmering said. "So, for things like that, where it's like, they literally have no food in the house, we'll skip the gift card and just buy a month's worth of groceries."
That way, the families don't have to risk leaving their homes. Some don't have cars, or they don't have child care, so they would have to bring their whole family to the grocery store.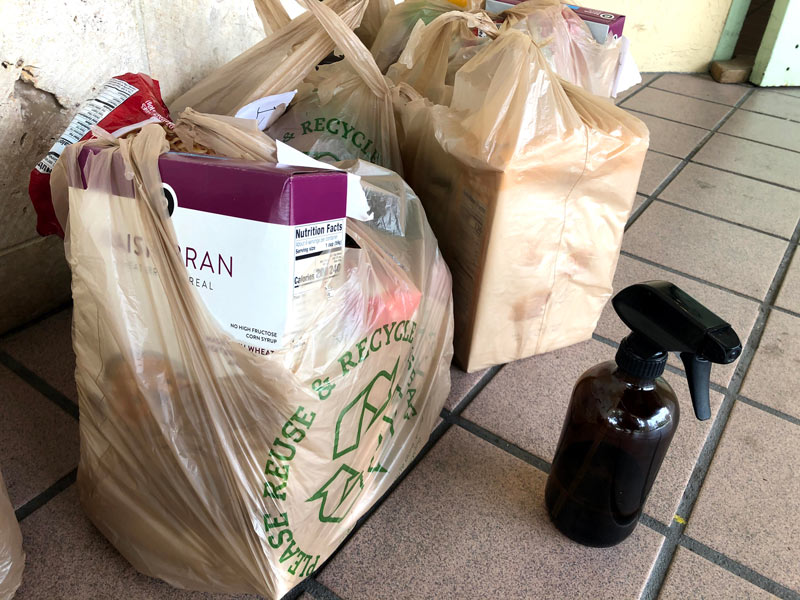 A little later on this hot afternoon last June, Rosena arrived to pick up the donated groceries and gift card for her family. Florida Public Media is not using her last name to protect her privacy.
At the time, her daughter Wilenshia was going into fourth grade at Morningside.
"My husband lost his job. Only me, do part time. It's very tough," said Rosena, whose native language is Haitian Creole. "But God help us, we are still alive."
Rosena said her husband worked at a rental car company at the airport, and when travel slowed down, he was let go. At this point, she had been supporting her family with just her part-time job preparing food for residents of a nursing home.
"Those people don't have nowhere to go. So we have to stay," Rosena said. "We have to be safe, but we have to go and help them."
The groceries provided by the school PTSA helped Rosena feed her family, too.
"Thank you so much for thinking about me, for thinking about Wilenshia!" Rosena told Simmering, Blanchard and another school staff member who was there. "This is such a help! May God continue helping everybody."
After Rosena left, a woman pulled up in a car and shouted to the group. Simmering said this happened every time the PTSA held a food distribution: People who lived in the community but did not have any children at Morningside would stop to ask if they could have some donated food.
"'Anything, because I don't have nothing.' That's exactly what she said," said Blanchard, who walked over to speak to the woman and found out she was not a Morningside parent. "Those are the things that bleed your heart."
After the group stood for a few moments in silence, feeling powerless, Blanchard said the PTSA would do more, if it could.
"I know for a fact, if PTSA could give the world, they will give the world," she said. "But unfortunately, we don't have that kind of funds to actually make everybody happy. We cannot make everyone happy."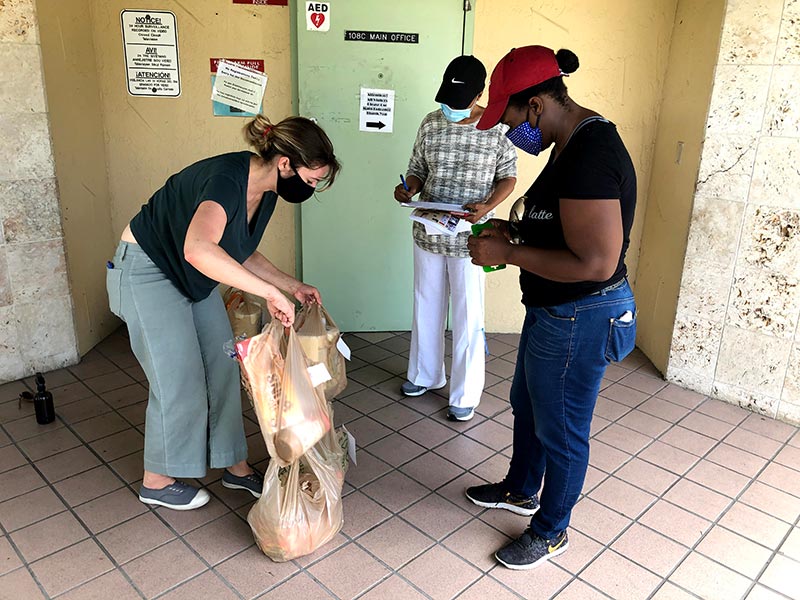 The challenges — and risks — of bringing more resources to Morningside
A bright blue dolphin leaps over the words "Morningside K-8 Academy": the school's logo, printed across the top of a marquee sign. The removable letters were arranged to alert parents of a PTSA meeting on March 19. And the following week: "NO SCHOOL SPRING BREAK."
The abandoned, untouched message was months old at this point in June 2020, already a relic of a time when what was coming still seemed an impossibility, nightmarish and far-fetched.
The sign has yellowed after years in the harsh Miami sun. A rust-colored stain creeps up an exterior wall, facing a playground that for years had been so damaged, it was too dangerous to use.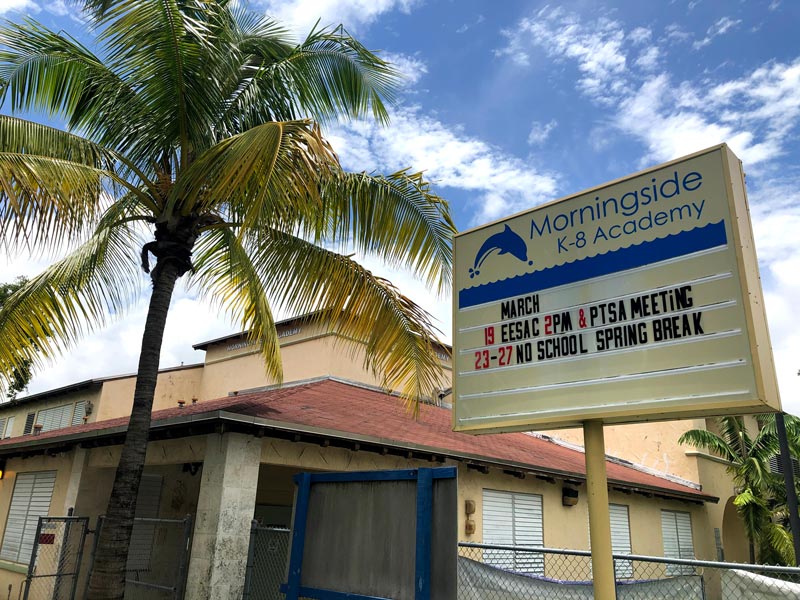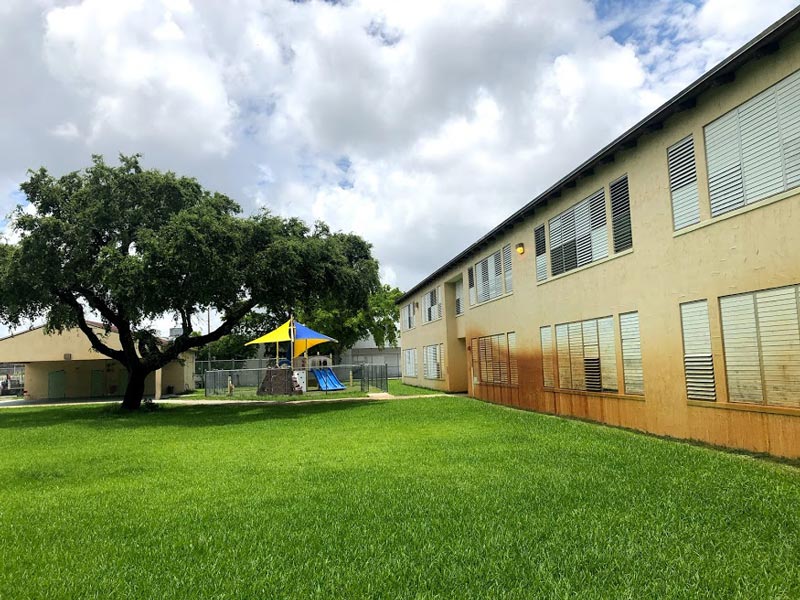 But inside the gates is a tropical wonderland. Mango trees and bananas flourish in lush gardens surrounded by markers explaining which plants are native to Florida and which species of butterflies they attract. Donated picnic tables offer a place to rest and enjoy the greenery.
"It's like this hidden gem," said Chase Simmering, then president of Morningside's PTSA. "You don't know, from the outside, what it's really like in here."
During a typical school year, the PTSA raises about $50,000 with its big annual fundraiser: buying school uniforms and selling them to parents at a small mark-up. The money pays for beautifying the campus, enriching educational experiences and filling in gaps in equipment and supplies.
"We found out that middle school bathrooms did not have small trash containers for young women who were starting their menstrual cycles to be able to dispose of their sanitary napkins," said Olga Ramos, who has served as the PTSA's vice president. "Running down to HomeGoods and just buying one for each middle school bathroom is something that we did."
The moms on the PTSA are better off financially than most families at Morningside, but they're not fabulously wealthy. They work, some of them full-time, and they had to juggle their finances to help out with the fundraiser that fed some of the poorest families at the school.
Simmering said the PTSA's rules require officers to make purchases out-of-pocket and then apply for reimbursement. For the fundraiser, that meant buying groceries and $150 gift cards for up to 25 families at a time.
"So it's been this patchwork, teamwork effort, where one person knows that out of this week's paycheck, they can front $300, and the other will cover $500," Simmering said. "We have had to be really open with each other in a way that is not stuff we would normally talk about. And not be embarrassed to say, 'I can't afford to cover any of these Publix cards this week.'"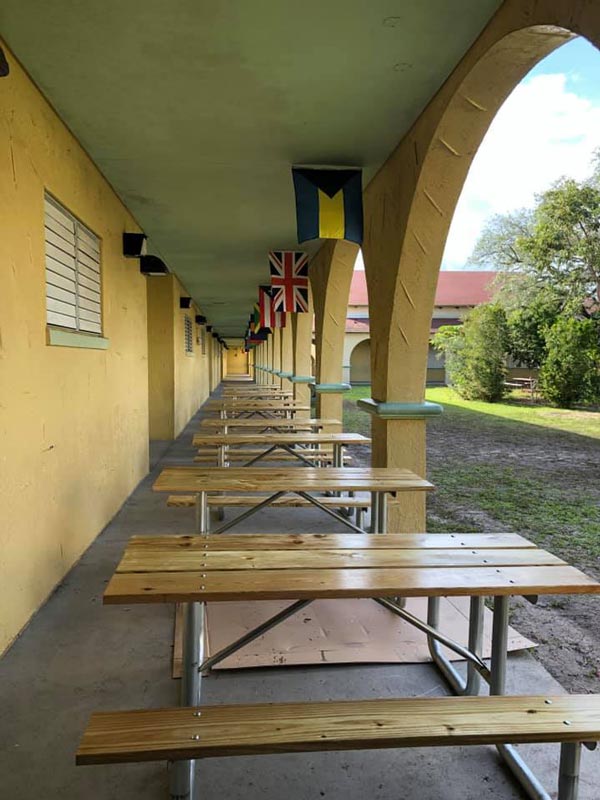 Simmering and her fellow officers have long been frustrated that while the community around Morningside has gotten wealthier, the school is still struggling for resources.
When they asked people in the community to consider donating to the COVID-19 fundraiser, they were both grateful for and surprised by the response.
Simmering posted about the fundraiser on social media — NextDoor, Instagram, Facebook — and immediately got a $1,000 donation.
Pretty quickly, that became $20,000.
"We have never raised anything like that kind of money before in the past," said Liz Zaney, the PTSA's recording secretary, who added that neighbors showed up at her door with cash.
The surprise came because some people in the community who contributed to the fundraiser seemed to take no interest in the school before. Many of the affluent neighbors send their kids to a nearby private school where tuition costs up to $40,000 a year.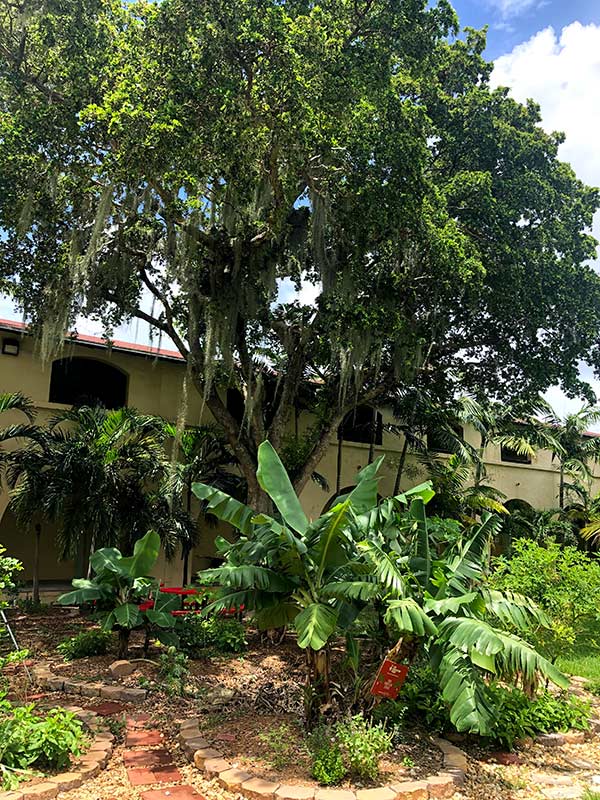 "It just saddens me that there's a huge section of our community that have never walked through the gates of their own local public school," Zaney said. "That is mind blowing to me. Why would you not want to send your child to their local school?"
The PTSA moms have been asking this question, but they know the answer. They all have stories about trying to convince other white parents to send their kids to Morningside and being met with coded language: euphemisms to disguise classism and racism.
"They worry about having peer relationships, where you could invite somebody over to your house," said Diana Dalton, the PTSA treasurer. "The income disparity is so great, they don't see how they would bridge those worlds."
Rebel Owens, the immediate past president, said her family "straddles both sides," because she is white, her husband is Black, and her children are biracial.
She has gotten "random comments from people: 'I don't really see my child identified there. They'll be the only one,'" she said.
"We've had some people say things like, 'Oh, well, it's just not very diverse.' … And we were like, 'Do you mean that it's not white enough?' Because that's exactly what they were saying. … It's incredibly diverse," Simmering said.
"It's funny. People say, 'Can we donate? Can we do something?' But they're not considering sending their own kids there," she said. "They want to do something to make themselves feel better."
The PTSA officers understood other parents' reticence when the school carried a D-rating on the state's A-to-F scale for grading performance. But now it's a B, and parents there gush about the academic quality.
Simmering and Ramos related strikingly similar stories about their children beginning kindergarten without knowing how to read or being interested in books, only to become skilled, voracious readers after a short time at Morningside.
White, wealthy people who the PTSA leaders have talked to about Morningside "just assume the quality of education is less, and they sort of treat us like we're going there to make a statement," Simmering said. "We care about our kids' education as much as any other parent. And it's been fantastic."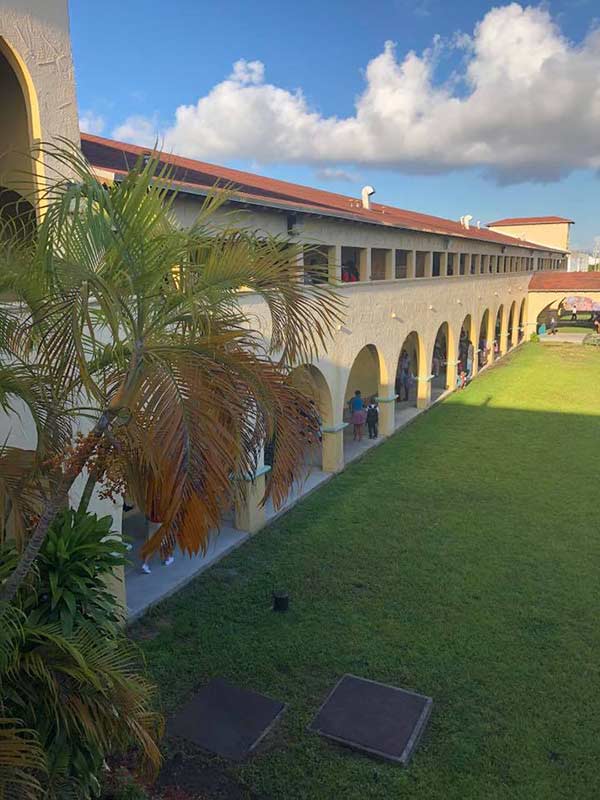 It's not just PTSA fundraisers that are at stake when neighbors will send donations but not kids to the school. Morningside is under-enrolled — it's at about 70% capacity — while some other schools in the county are overcrowded. The more students that come into a school, the more money comes with them.
The leaders of the PTSA know that more money is a mixed blessing, and they worry about the pressure gentrification is putting on the school.
"I don't want our school to change that much. I love the way that it is," Simmering said. "But the school needs more resources, for sure."
It's already happening in subtle ways. Some prospective parents have inquired whether the school would replace one of the options in its dual-language program with Portuguese. While district and school administrators and PTSA leaders swear the Haitian Creole program is safe, an effort to replace the lowest-enrolled language, French, with Portuguese, would still pose a threat to the students who take Haitian Creole. The language is offered only through elementary school, and Haitan Creole students typically switch to French when they enter middle school.
"There's just this sort of looming feeling that change is coming, and it's not going to include the same people that school has always included," Simmering said, sighing deeply. "And that's really hard to grapple with."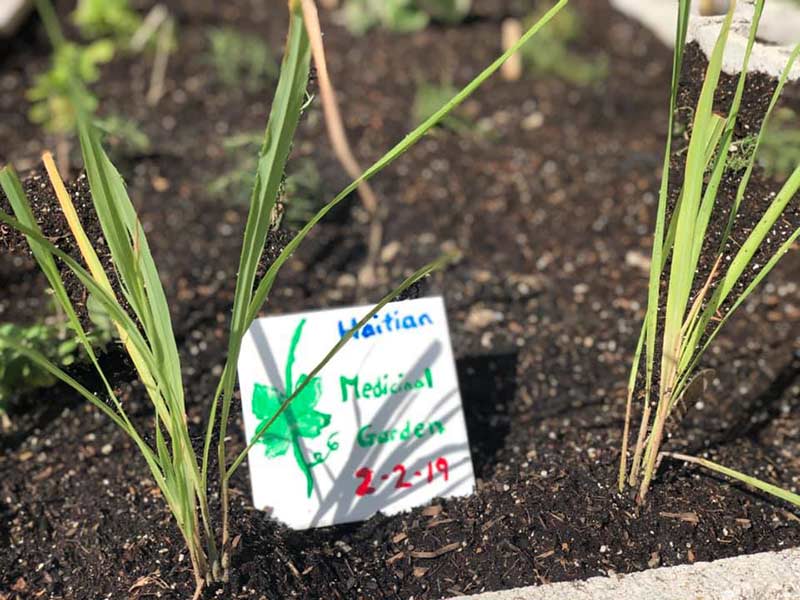 'Over summer, everything changed'
In late fall 2020, as the new school year began, South Florida was in the throes of a summer surge of new coronavirus cases. The moms who lead Morningside's PTSA had to make some impossible choices about their children's education. And the reality is, parents with more resources often have more choices.
"Over summer, everything changed for a lot of people," said Liz Zaney.
As for the PTSA itself, "I don't even know if there is one anymore. It was all a bit shocking," she said. "There's only me and Diana left now."
Zaney and Diana Dalton stayed, but the other three moms took their kids out of Morningside. It was a deeply painful choice for some.
Past president Rebel Owens' youngest son finished fifth grade, and she had never planned on keeping him at Morningside for middle school, so they moved on.
Olga Ramos' son finished first grade through a screen. Ramos said she saw him lose interest and fall behind. She couldn't risk him continuing to suffer academically at home, and it had become too hard with her and her husband's jobs.
"Having two people working full time and a child doing remote learning in a 1,400 square-foot 1940s bungalow is, in and of itself, a certain nightmare," she said.
So the family moved. Ramos didn't feel comfortable with Miami-Dade County Public Schools' plan for reopening, so she put her son in a private Catholic school instead. The tuition there is around $8,000 a year for young students like him.
"I do feel like I made the right decision, because I am seeing him much more engaged and just happier" than he was when he finished last school year online, she said.
Ramos is one of likely tens of thousands of parents who pulled their kids out of Florida's public schools since the start of the pandemic to transfer them to private or virtual schools or homeschool programs. Nearly 90,000 fewer students are enrolled in Florida public schools this school year than expected, some of whom are unaccounted for.
Morningside was not spared. Since before COVID-19, the school has lost more than 11 percent of its student body. For now, that hasn't cost the school anything, because the state put a temporary pause on the policy that schools should be funded based on enrollment. That reprieve is not expected to continue next school year.
"My decision was really selfish, right?" Ramos said. "It was only about what is best for my child and my family. And I did not take into consideration, broadly speaking, what it means for public schools if children leave."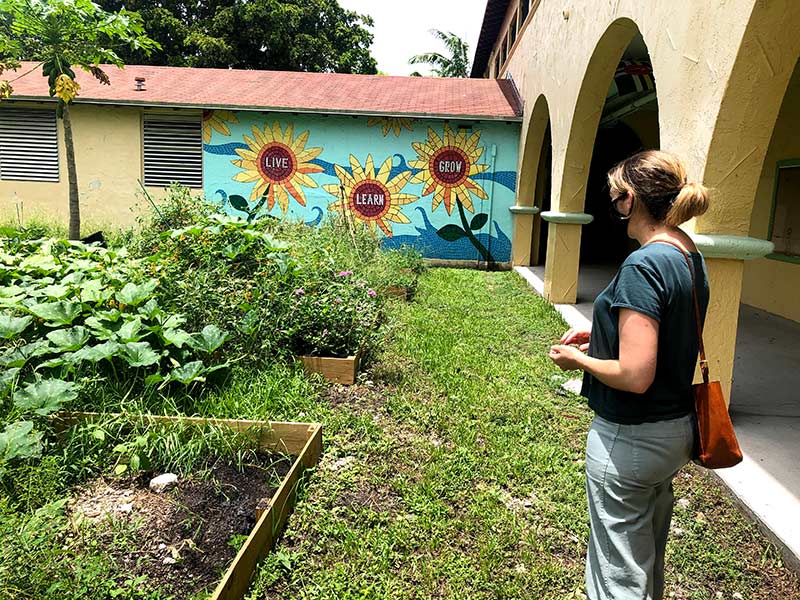 PTSA President Chase Simmering moved, too. Her family wanted more space, especially since she and her husband often worked from home throughout the pandemic.
Simmering and one of her daughters have some underlying health issues, so going back in person wasn't an option. And virtual school had been tough on her kids, too.
"That was really hard," said Isla, a second grader. "It made my eyes hurt."
"They were zombies by the end of seven hours in front of the computer," Simmering said.
Simmering found a homeschool curriculum incorporating mostly hands-on, project-based learning, with hardly any work on the computer.
But the family's departure cast doubt over the future of the PTSA. Without a president, it would need to be legally dissolved, and the other moms did not feel like they could devote the time to take over. Recruitment efforts had fallen flat.
"My first instinct was to just want to want to stay involved," Simmering said, adding that her husband worried she was taking on too much.
"I was even imagining … trying to come up with ways I could secretly do it without my husband knowing," she said, laughing, "like I was cheating or something, which feels ridiculous."
Although her daughters no longer attended Morningside, Simmering decided to stay on as PTSA president as long as she was needed. She wanted to ensure its survival, but she was growing discouraged about the organization's prospects.
"It's totally heartbreaking when I try to imagine the impact this is going to have on the school," she said, "because I feel like it was in a really pivotal place of growth. … This is gonna cripple it. I don't know how it's going to come back."
Zaney said, at first when the other mothers left, she had some sleepless nights worrying about Morningside.
"I've decided that, just for my own mental health, I just need to take a step back," she said, "and realize that schools are very fluid. It's not a stationary thing. Schools change, students come and go, people graduate, et cetera, et cetera.
"It's still going to be there," Zaney said. "It's been there for all these years without us. It's going to be there for all these years in the future."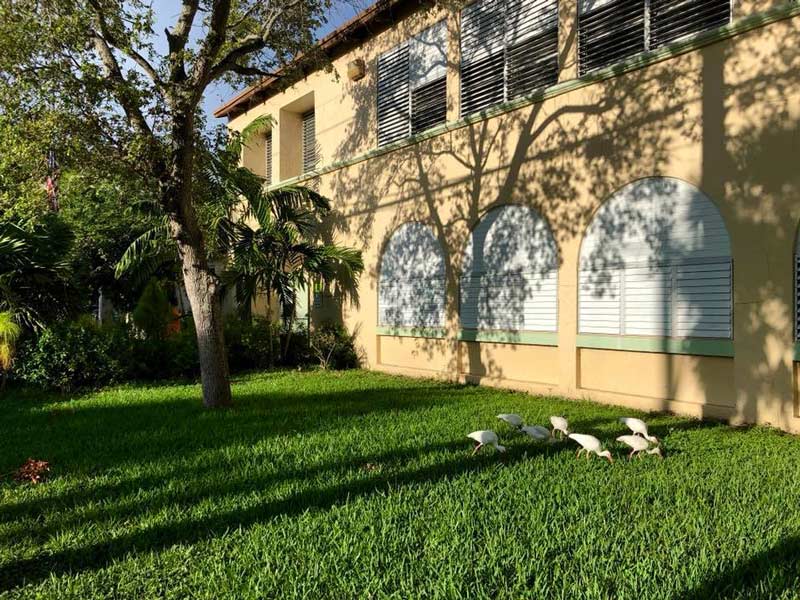 What's next for the Morningside PTSA
For the moms who chose to take their children out of Morningside and leave the PTSA, there has been an unwitting consequence of their decision, at least for now: During the pandemic, the fewer students in school, the less exposure the students who are there in person likely have to COVID-19.
The school reopened for face-to-face classes in early October, along with the rest of the public schools in Miami-Dade. Morningside went months without reporting a single case of COVID-19 among students and staff, although the school has found several since the start of the new year.
The PTSA had about $4,000 left from last spring's fundraiser to help feed struggling families, the officers said. They decided to use it to offer more groceries around Thanksgiving and winter holidays.
The PTSA officers don't have the time this year to organize their annual fundraiser selling uniforms to parents, so that has made a dent in the group's budget. But there aren't any field trips or dances to pay for this year anyway.
"We are making it work, COVID and all," said Liz Zaney, whose kids are back in school in person at Morningside and doing well. "We recently beautified the front garden at the school on a Saturday. Some families came out who don't even attend the school anymore, but it still holds a special place in their hearts."
Zaney and Diana Dalton, the two moms who are still a part of the PTSA, are especially excited to report they've been able to recruit a new leader.
Edith Blanchard, community involvement specialist at the school, now has another title: Morningside PTSA president.
Funding for "Class of COVID-19" was provided in part by the Hammer Family Charitable Foundation and the Education Writers Association.